Learn Access Now! Chapter 7 Previous Section in Chapter 8 Next Section in Chapter 8 Chapter 9
Chapter 8: Creating Simple Reports
(This is section 3 of 5 in this chapter)
Using Other Report Wizards
The Report Wizard you used so far in this chapter is not the only one provided by Access. There are several others you can use, as well. You access these Wizards by choosing Report from the Insert menu. Access then displays the New Report dialog box shown in Figure 8-9.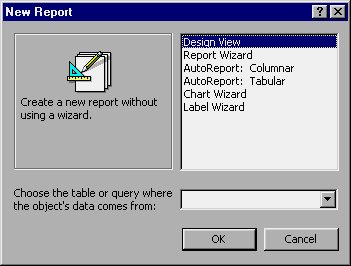 Notice that there is a place at the bottom of the New Report dialog box where you specify the data source (table or query) to be used as the basis of your report. At the top of the dialog box are six choices representing different actions you can take:
Design View. Allows you to create a report using the report Design window. This is discussed in more detail in Chapter 14.
Report Wizard. Creates a report using the basic Report Wizard. This is the same Wizard you access if you double-click your mouse on the Create Report By Using Wizard option in the Reports area of the Database window. (You did this earlier in this chapter.)
AutoReport: Columnar. Creates a report that lists each field in a record on a separate line. (This type of report can consume large amounts of paper.)
AutoReport: Tabular. Creates a report that resembles a spreadsheet--one record per line, with fields progressing left to right across the page.
Chart Wizard. Creates a report that includes a chart derived from data in your table or query.
Label Wizard. Create several different types of mailing labels.
Most of these report choices actually uses a different Report Wizard. Your report choice answer here will determine the questions that follow. Even though the end result is different, the questions asked in arriving at that output are very similar. All you need to do is apply the skills you have learned already in this chapter, and everything should be fine.
The one exception is when you want to create mailing labels. In the next section you learn how to use the Label Wizard to create mailing labels based on the information in your database.
Learn Access Now! Chapter 7 Previous Section in Chapter 8 Next Section in Chapter 8 Chapter 9