Learn Access Now! Chapter 3 Next Section in Chapter 4 Chapter 5
Chapter 4: Creating Another Database
(This is section 1 of 4 in this chapter)
In Chapter 2, "Access in an Hour," you learned how to perform all the basic Access functions. You created both a database and a table, and you learned your way around the Datasheet. In this chapter, you will revisit many of the same topics covered in Chapter 2, but from a different angle. Here you will learn how to create a table from scratch, instead of using the Table Wizard. You will find this exercise both instructive and enlightening.
By the time you finish this chapter, you will understand the following key concepts:
How to create a database
How to design your own table
How to layout your table using the Design view window
How to test your table layout
A Brand New Database
To begin, you will create a new database. As you will recall from Chapter 2, you can create a database by following these steps:
Click your mouse on the New tool on the toolbar. Access displays the New dialog box, as shown in Figure 4-1.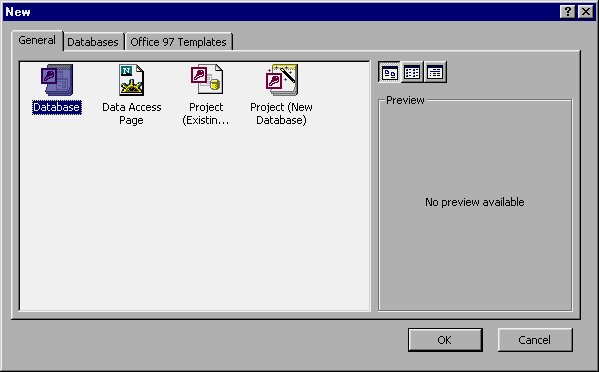 Make sure the Database object is selected, then click your mouse on OK. Access displays the File New Database dialog box, shown in Figure 4-2.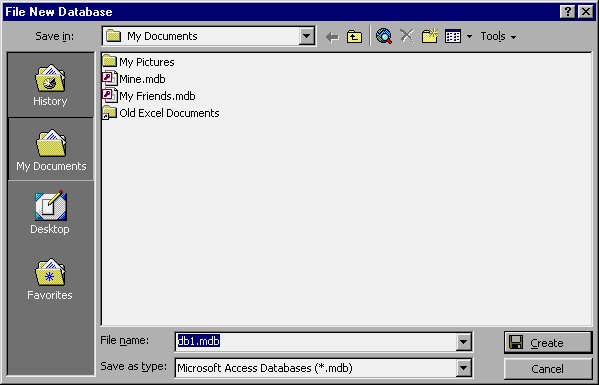 If necessary, change the drive and directory for the new database.
In the File Name box, enter the name Customer. This is the name you will use for the database in this chapter.
Click your mouse on Create. After Access creates the requested database file, you will see the Database window shown in Figure 4-3.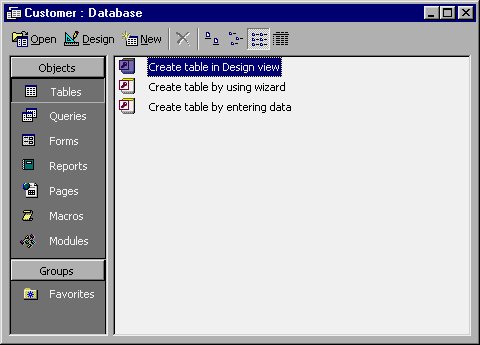 Learn Access Now! Chapter 3 Next Section in Chapter 4 Chapter 5